Warning. This rice pudding does not pretend to be anything other than what it is--creamy and delicious, decidedly NOT low-fat. At least it's honest.
This is a recipe from my
Food Network
fave,
Giada De Laurentiis
. You can find the original recipe
here
.
Here's what you'll need:
4 cups whole milk
1/2 cup Arborio rice or medium-grain white rice
1/2 cup sugar

1 vanilla bean, seeds removed, pod reserved

1/8 teaspoon fine sea salt

1/2 cup fresh lemon juice, from about 3 large lemons

1/4 cup amaretto liqueur

3 large lemons, zested

1/2 cup whipping cream

1/4 cup sliced almonds, toasted



I accidentally left Sugar out of the group photo. Oops.
Preheat the oven to 350 degrees. Arrange the almonds in a single layer on a baking sheet.
Bake about 6 to 8 minutes, until lightly toasted. Let cool completely.
To remove the seeds from the vanilla bean, slice thinly lengthwise from one end to the other. The vanilla bean was new for me. I've never actually cooked with one before. Here's my vanilla bean.
Kinda wrinkly and pathetic-looking, huh? If I hadn't seen the episode where Giada makes this rice pudding, I would have sliced open my vanilla bean and said, "Where the heck are the seeds?" Because vanilla bean seeds...well, they look like coffee grounds to me. Wouldn't you agree?
They sure smell good though!
In a heavy, medium saucepan, combine the milk, rice, sugar, vanilla seeds, vanilla pod, and salt. Bring to a boil over medium heat, stirring frequently.
Reduce the heat to medium-low and simmer, stirring occasionally, until the rice is tender, about 35 minutes. In a medium bowl, mix together the lemon juice, amaretto, and lemon zest.
Slowly stir the lemon mixture into the rice mixture and cook for 10 minutes longer. Remove the vanilla pod and discard.
Stir in the whipping cream (mixture will still be runny but will thicken as it cools).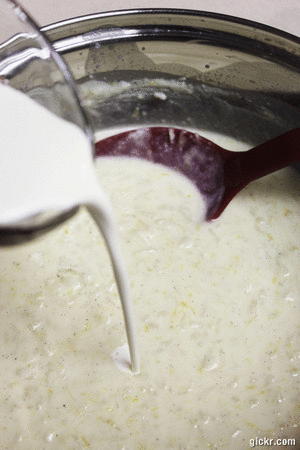 Spoon the rice pudding into bowls--bonus points if they're cute and polka dotted!
Cover and refrigerate for at least 4 hours.
It's delightful, lemony, and creamy! I have an urge to try making a coconut version next....